The Amazing Fully Automated Trading Program - Learn It For FREE!
Learn Step By Step Instructions In How To Use The Simplest Automated Trading System, Ever!
Yes, It's Finally Here!!!


The Legal, Easy & Simple Way
To Automatically Stream Cash From The Markets,
Straight Into Your Account...


...All From The Push Of A Button!!!


And The Best Thing Is...

...You Don't Need To Know A Thing About Trading To
Profit From This Little Unknown Discovery!!!
Hello,

There is a 97% possibility that I have created a 'Fully Automatic Trading System' using the inner workings of what was the older version of 'The TenKei Trading System'.

And it's always been there, right before my/our eyes!
But of course, whatever we seek is often always staring us in the face but sometimes, we just cannot see it.
But through exhaustive testing (and I mean that because working on this has literally brought me to my knees), I have found *Two* very stable variables out of hundreds of permutations that has taken me many years of research and analysis...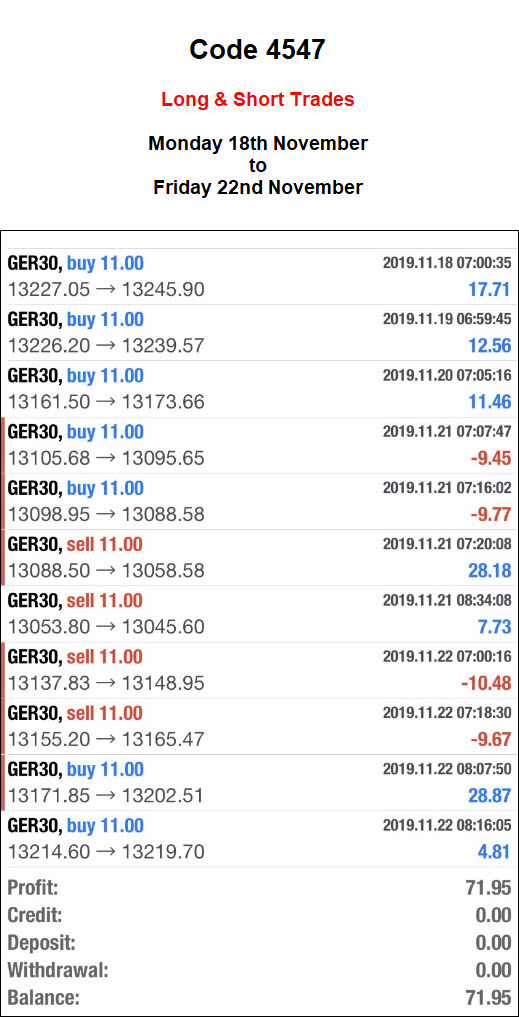 15Second Chart
Overall Profit Target Is Infinite
Stop Loss Is 10
Profit Lock In Target Is 31
Trailing Stop Loss Is 1
Date: 2019.11.18 to 2019.11.22
We Prefer:
Start: 06:59 GMT – End: 08:59 GMT

...to find that those *Two* setups work consistently and profitably 80% of the time!
This means there are *Two* Trading patterns or programs out of *Hundreds* I tested that works fully on Auto without any human intervention (or meddling from me) or from you.Truly, I Thank GOD for this!
Why am I telling you this?
Because since it has now proved to be stable, I am now packaging them into a 'Fully Automatic System' where you can try it out, test it, run it, use it and even Profit from it all for a fee of £1, for a full 30Days with no obligation to buy!

15Second Chart
Overall Profit Target Is Infinite
Stop Loss Is 9
Profit Lock In Target Is 9
Trailing Stop Loss Is 1
Date: 2019.11.18 to 2019.11.22
We Prefer:
Start: 06:59 GMT – End: 08:59 GMT
Then you can let me know what you think of it – and leave after your 30Day Trial For £1 – or become a subscriber of it!
And I originally wrote that I would not release it, unless it works!
Guess what?
It works!
Because it works, that means:
You will not have to place not one single Trade, the system will do it for you!

It will Trade for you!
It will choose your Trades!
It will Open your Trades!
It will Close your Trades!It will shut down when your Profit Target is hit!
It will even Compound your Profits if you want it to!
The 'Aim' is for you to do nothing but 'Push a Button' to start it up!
You do not even have to be present for it to work, just switch it on and it will do all the work for you!
It all sounds a bit like 'Science Fiction' doesn't it?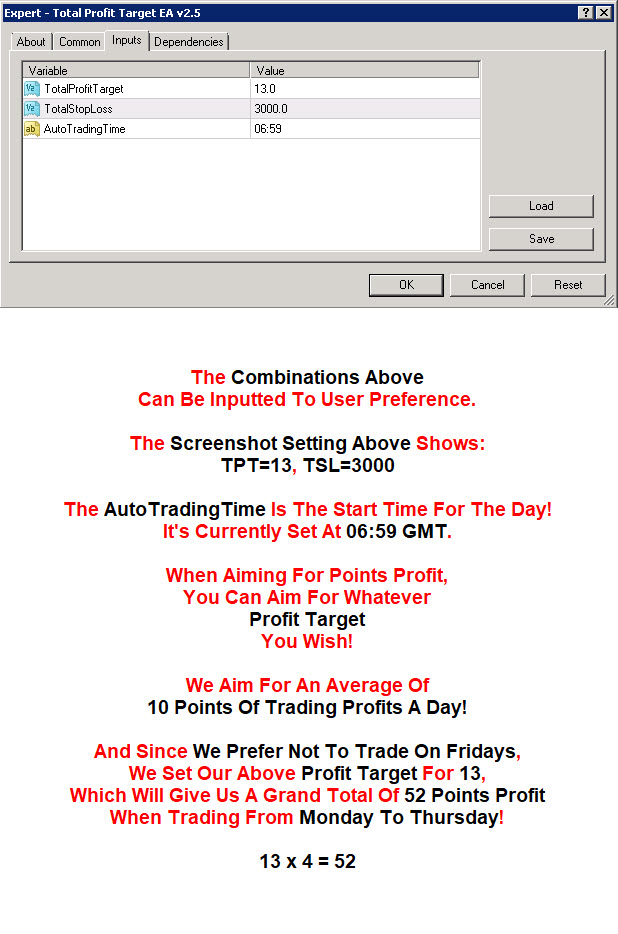 The TenKei Total Profit Target Will Manage Your Trades For You…
And that's how it is meant to work!

In fact, let's admit it and call it 'Science Fiction' because it still seems unbelievable (even) to me!
I have always had it in mind to find a 'System' like this!
And now, I think I have (through much prayer) created it!
And if it does not work in the way described above, you don't have to part with any money but at least you would have had the opportunity to test it out!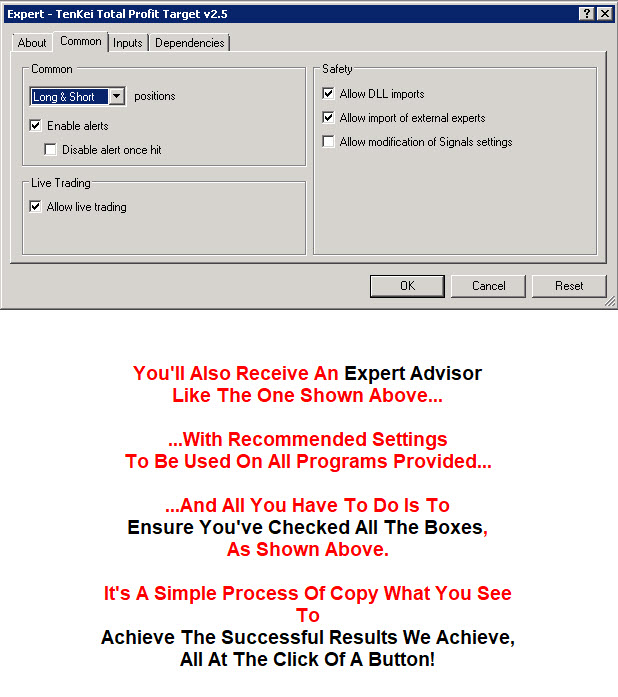 So, if you want to test it out, first have a good look around this site/course because as simple as this system is, there is so much for you to know...
...because everything written and in screenshot format is every last possible thought (of mine) that I could put on paper.
And sorry, I don't think I can squeeze any more information out, as I feel I have maxed out on every little detail I can possibly think of to get you running this like I do.
I've done all of this work just so you could try it before you buy it but at the same time, know exactly how to set it all up before you even start your 30Day Trial For £1.

That means, once you start your Trial, you'll be able to spend more time testing the system, rather than reading and looking at screenshots whilst the clock is ticking and you're still busy attempting to figure it all out!
So, take your time, read all of the material and when you're ready, Sign Up For Your 30Day Trial For £1!.
May Your Day Be A Blessed One!
In JESUS' Name.
Amen!


Wilson P Williams

P.S. If you have any questions at all on anything you have read or you need help with anything at all please send your emails to: [email protected]
If you would like to take advantage of the TenKei 30Day Trial For £1 please 'Click' on any of the three links below to choose the subscription of your choice:
Once your subscription has been activated and your email address has been received, the necessary Files will be emailed to you in order for you to begin the setup process.
Note: Do Not Forget To Add Your Email Address So The Correct Software Can Be Delivered Directly To Your Inbox!
I wish you all the very best in your Trading endeavours!
Wilson
P.P.S. If you have not studied the
TenKei Modules
, please refrain from signing up for a subscription until you do. Take at the very least one to two weeks to learn and fully understand the
Modules
inside out!
Your Instructor
Hello,
My name is Wilson P Williams and I happen to be qualified in Hearing Aid Audiology where I would spend my days studying charts and graphs (called audiograms) and thus finding solutions to helping and rehabilitating patients to restoring not only their hearing but their confidence in life again.
Due to my love for charts and graphs, when I came across the financial markets and charts many years ago, I immediately took to it like a duck takes to water and have never looked back.
The TenKei 7.0 happens to be my 7th version which I would deem as being the best of the best simply because it is a 'Fully Automated System' and (you) the user will not have to lift a finger to Trade successfully.
With my experience in creativity in the arts — and experience in radio presenting and face to face consulting — I have turned my hand to creating 'How To...' courses in order to show you how to see the markets with fresher, clearer and simpler eyes in order for you to generate an extra income and to develop a money making skill, for life!
My mission was always to;
"Achieve 10 Points A Day Of Trading Profits"
...but now, my mission is:
"To Help 'You' Achieve 10 Points A Day Of Trading Profits"
Why?
Because I learned that I can — and it's a far worthier mission to help you — than just myself.


Thanks for reading!

Wilson P Williams
Course Curriculum
Product One Is Designed To Look For The Best Setups, At Set Times Of The Trading Day Providing You With Successful Trade After Successful Trade - This Product Does Not Run Fully On Auto!
Available in days
days after you enroll
Product Two Is Designed To Automatically Manage Your Trades By Switching Them On & Off , Even If You Are Not Present And Can Be Used In Conjunction With 'Any' Trading System!
Available in days
days after you enroll
Frequently Asked Questions
How long should I take to study the materials because I'm eager to test out your system?
For Experienced (MetaTrader 4 & 5) Users: One Week. For Intermediate Users: Two Weeks. For Novice Users: Three Weeks. For Complete Beginners: Three to Four Weeks. There's no rush... Take your time to learn the content well and for it to become ''Second Nature'' to you. Once you feel competent and confident to start, - then - sign up for the 30Day Trial For £1.
When does the course start and finish?
The course starts when you do and never ends! This section of the online course is completely FREE - and starts and finishes based on the length of time you wish to remain a subscriber to the actual Trading program.
What if I am unhappy with the course?
We would never want you to be unhappy! Once you sign up as a Subscriber, if you are dissatisfied with the performance of the TenKei Automated Program, you can cancel your subscription at any time. Our stipulations are as follows: You are entitled to a try before you buy being a 30Day Trial For £1. Once signed up there will be a monthly charge. Each months payment is Non Refundable. You can cancel at any time and you will have to use up the month paid for. And if you ever wish to come back, you can re-join at any time.
How long do I have access to the course?
How does lifetime access sound? After enrolling, you have unlimited access to this course for as long as you like - across any and all devices you own and if you become a subscriber you can continue with your subscription for as long as you wish and 'All' updates are FREE and included in the course for FREE!
Can I still use the TenKei system even though I live outside the UK?
Yes you can, as the TenKei is a Trading program which can be used anywhere in the world and on any market. You can use a Broker for Trading Stocks, Indices, CFDs or via a Spread betting Platform. Spread betting is legal within the UK (at the time of writing). Spread betting is legal within the UK. If you live outside the UK, please check with your country as to the laws of Spread betting before opening a Spread betting account.
Can I trade using the TenKei system in any currency?
Yes, you can! You can Trade using the TenKei in any currency you wish so as long as your broker will allow it.
Can the TenKei system only be used for spread betting?
No, the TenKei system is not a spread betting system, it is a Trading system. This means the techniques can be used on any market and with any broker but the software will be focusing primarily on the movements of the DAX.
If I have more questions, where can I obtain the answers?
You can obtain many more answers to the TenKei Automated System by going to' 'The TenKei Strategy Guide' within the FREE course.
In ending:
I see this product as being BIGGER than any other product out there!
Why?
Well, if it works (and it does), this will not be something you buy and use or put on the shelf because this is an 'Income Producing Product'!
This is truly like having you own money machine where you can churn out as much as you want and you don't even have to lift a finger, apart from switching your operating system on!
You don't have to study the markets, watch the markets or know the markets...
...I've done all the hard work for you, from here on you can just sit back, relax and have an income and profits rolling in whilst you, what?... sit on the beach? Or do anything you like!
Yes, these are mighty BIG claims but if you don't believe me or have doubts about it, you can at least test it out for yourself.
You have a 30Day Trial For £1 to test it for yourself and to prove me right or wrong.
So with your 30Day Trial For £1, you've got nothing to lose and everything to gain.
Just like Steve Jobs, I 'Believe' this (TenKei) idea and product can change the world!
Thanks For Visiting!
GOD Bless!

Wilson P Williams